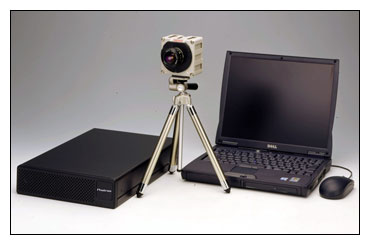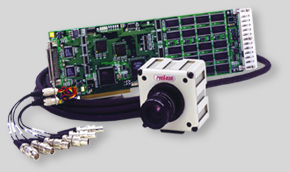 PC BASED CAMERAS by photron fastcam-512PCI

Latest-generation CMOS sensor provides high-speed digital imaging with unmatched sensitivity for your personal computer
Photron's 512 PCI brings the very latest CMOS sensor technology to your personal computer, giving you unmatched image quality, performance and convenience in one affordable design.
Capable of operating at full 512 x 512-pixel resolution as fast as 2,000 frames per second (fps), and with reduced resolution operation to 32,000 fps, the 512 PCI provides exceptional color fidelity and unmatched performance, all from a design that fits within a single PCI slot inside any desktop PC. An electronic global shutter,operating as fast as 4µs ensures that even the fastest event is captured blur-free for analysis and review.
High light sensitivity is achieved using a 10-bit monochrome (30-bit color) CMOS sensor with a large 16 µm pixel size. The 512 PCI system incorporates Photron''s latest unique operating feature, Dual Speed Recording™. This enables the user to program the system to record the initial stages of an event at one frame rate, and the later stages at a different frame rate, achieving the best possible combination of recording speeds and available memory.
Expandable memory means you can purchase a system that is configured to your precise requirements; still more proof that Photron is committed to providing users with an unmatched range of practical high-speed digital imaging solutions.
Features:
512 x 512-pixel resolution up to 2,000 fps
Electronic global shutter to 4µs
Records at speeds up to 32,000 fps
Large 16µm pixels provide maximum sensitivity and color fidelity
Four camera systems can operate in a single PC
Photron Motion ToolsTM software provides matchless performance and choice through a selection of optional modules.